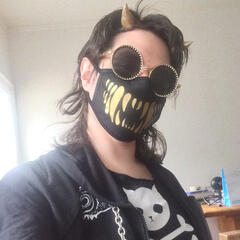 Karin Malady
A hauntological presence found in the cadence and style of certain miraculous elements of phrase.Writer. Narrative Designer. Revelator.Discord: SweetNAwful#0953
email: [email protected]
Credits
Essay
TTRPG
Video Games
Writing (Fiction/Poetry)
Media
Find me on the internet. I am very logged on, it is probably unhealthy!
Games
I make tabletop rpgs & twine games. You can find my original content on itch.io + D&D 5e homebrew on DM's Guild
WRiting
My writing includes poems & creative fiction spread across the internet.Visit my itch.io profile for pdfs of chapbooks and other writing.Teeth City Reverie is a series consisting of abstract short fiction about displacement and alienation.Find me on Deep Hell for my thoughts on "entertainment" and "culture"